Regular price
Sale price
$12.00 USD
Unit price
per
Sale
Out of Stock
Place one or two shower fizzies (depending on scent strength desired) in the shower. For best results, place out of direct spray in the mesh pouch to allow the fizzies to melt slowly and release the aromatic scent. Enjoy & repeat as needed.
Scent Choices
Wake-up & Energize
- Mango Sunset - A mouth-watering fusion of mango, papaya, and tropical flavors...
- Orange Blossom - A mouth-watering combination of orange, cassis, vanilla, and grapefruit...
- Sunshine Kisses - A bright confection of peaches, grapefruit, & thyme...
Relax & Rejuvenate
- Lavender - A relaxing scent known to balance the mind & body...
- Rain - Fresh as the morning rain with a unique, clean scent ...
- Sprig - A revitalizing combination of cucumber & aloe blended with lavender...
Mint Medley
- Peppermint Ice - A refreshing and cooling scent with a skin-tingling afterglow...
- Spearmint Eucalyptus - Spa-fresh scent to clear, soothe, and uplift your senses...
Sinus Relief
- Our proprietary blend of oils including peppermint, coriander, eucalyptus, and camphor.
*Fizzies are not bath bombs - They lack moisturizing and the scent concentrates are higher than recommended levels for skin application.
Size: Shower Fizzies are sold 6 to a pack which are packaged in a mesh bag that can be hung in the shower. Available in a variety of scents.
Made with: Sodium Bicarbonate, Citric Acid, Sweet Almond Oil, Witch Hazel, Cosmetic Colors, High Quality Essential Oils and Fragrances
Share
View full details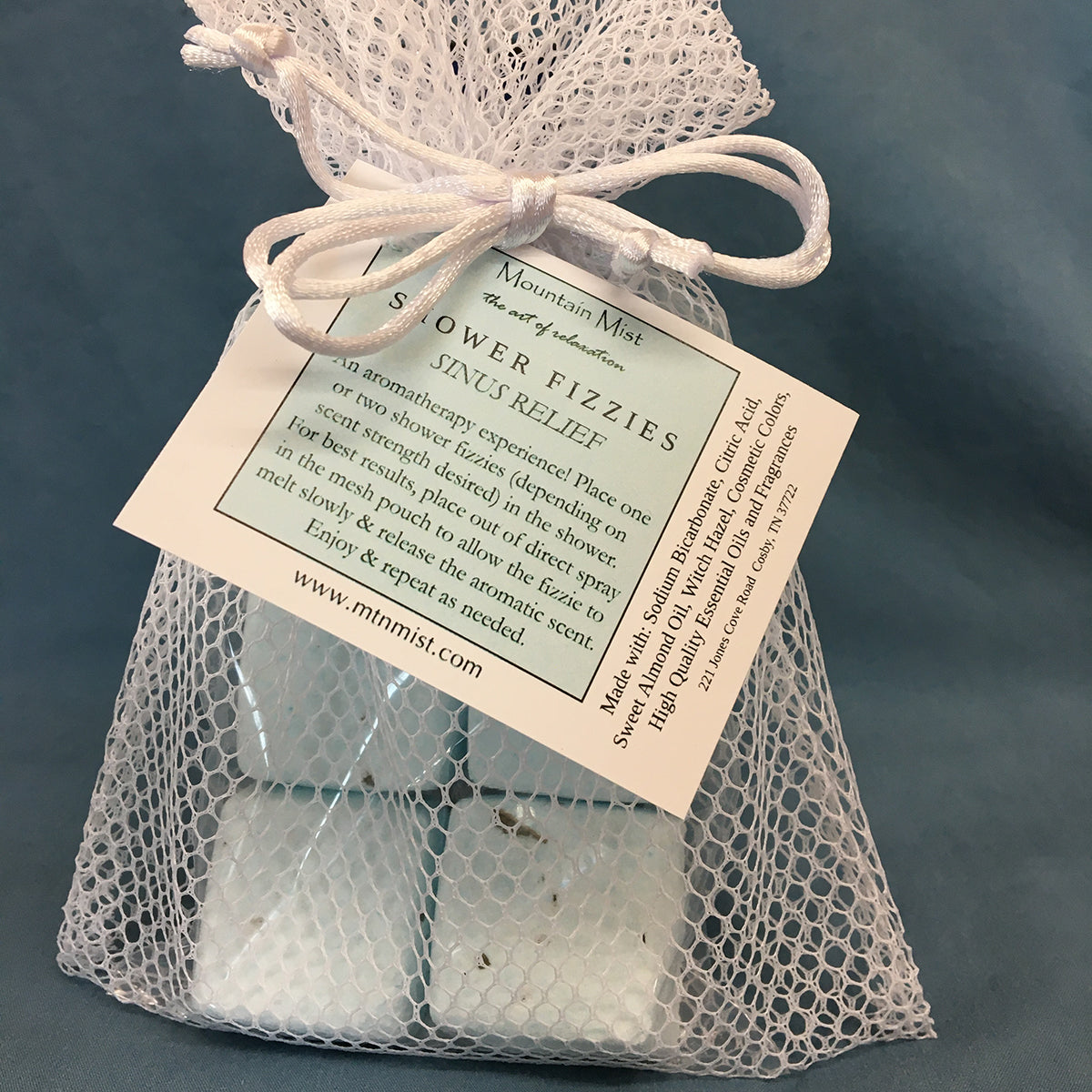 I am a mouth-breather, but I thought I would try these. I can smell them in the shower - it's wonderful! and the mesh bag - excellent idea!
I've struggled with sinus inflammation for years. These do the trick! They smell great and help open my sinuses up.