Regular price
Sale price
$12.00 USD
Unit price
per
Sale
Out of Stock
Introducing our specially formulated candles that offer a unique twist - they also double as a lotion! Crafted with pure soybean wax, these candles provide not only a fragrant ambiance but also a moisturizing treat for your skin.
Here's how it works: as you burn the candle, a pool of wax forms. Once the candle is extinguished, simply dip your finger into the melted wax, apply it to your skin, and experience the softness firsthand.
Cach candle comes in a convenient 6oz tin and offers an impressive burn time of 16-20 hours. That's plenty of aromatic moments to enjoy the soothing scent and indulge in the lotion-like qualities of the wax.
What makes soy wax so great anway? Let's dive into its benefits:
Clean Burning: Soy wax is non-toxic and burns cleaner than paraffin, leaving no soot behind. This means no blackened walls or ceilings and, most importantly, no toxic carcinogens released into the air you breathe.
Longer Burn: Compared to paraffin wax, soy wax burns slower and cooler, resulting in a longer-lasting candle. In fact, it can burn up to three times longer, allowing you to enjoy its fragrance and moisturizing properties for extended periods.
Renewable Resource: Soybeans are a renewable resource, making soy wax a sustainable choice. Unlike paraffin wax, which is derived from petroleum, soy wax supports a more eco-friendly production process.
Biodegradable: Being derived from vegetables, soybean wax is naturally biodegradable. This means that it not only reduces environmental impact but also makes it easier to remove from various materials and surfaces compared to paraffin wax.
Supports Farmers: Soy wax is made from soybeans, which means its use directly supports our hardworking farm families and the economy. By choosing soy candles, you contribute to the livelihood of these dedicated farmers.
Reduces Dependency on Oil: Opting for soy candles helps reduce our reliance on oil production from the Middle East, promoting a more sustainable and self-sufficient energy landscape. In summary, soy candles are not only better for you and your family but also for the environment. Our soy candles offer a delightful and responsible choice for a cozy, fragrant experience.
Size: 6oz tin, 16-20 hours burn time
Made with: Pure Soybean Wax, High Quality Essential Oils and Fragrances
Share
View full details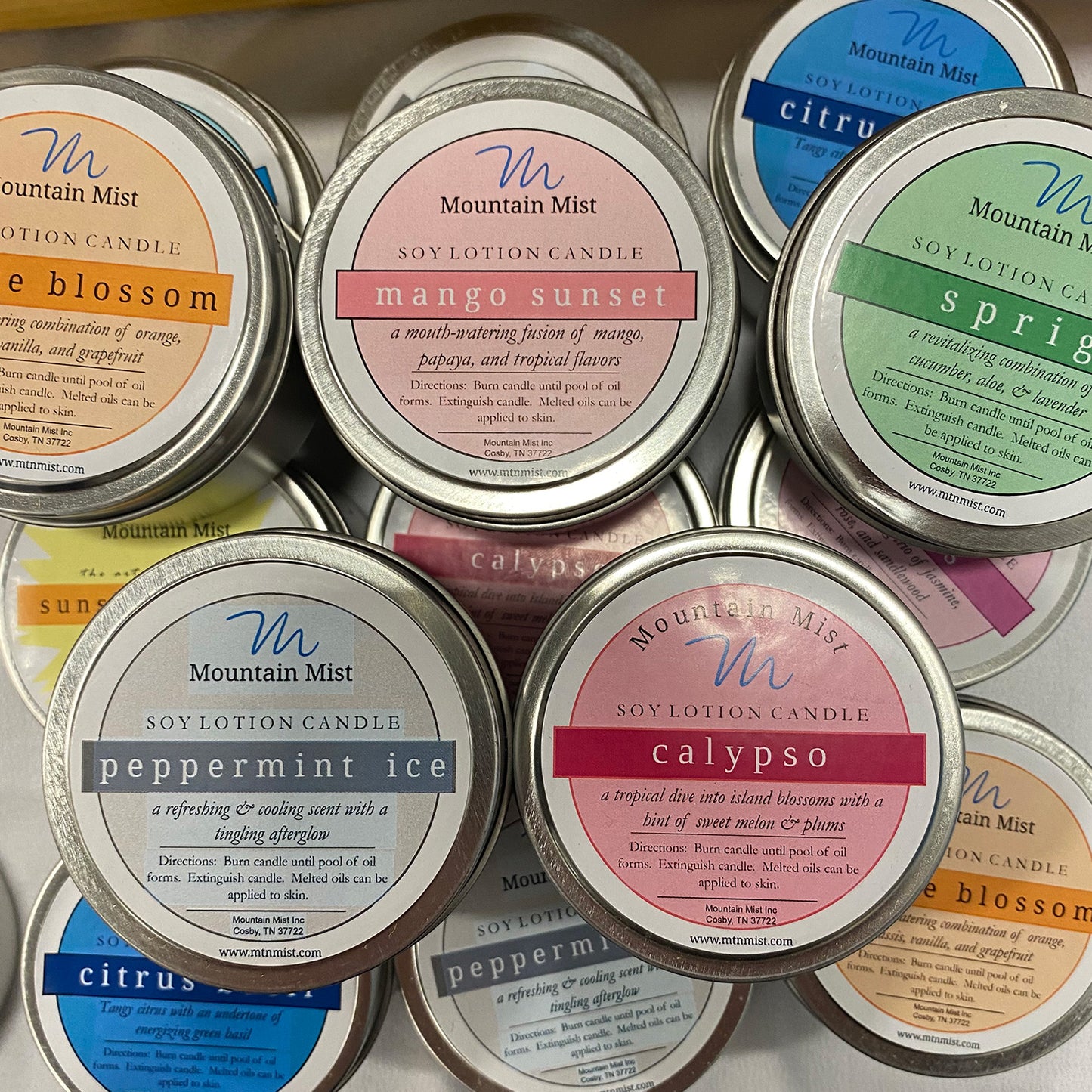 This is the most wonderful thing i have ever experience in my life, My name is Myers Ann, I never thought I will smile again, My husband left me with two kids for one year, All effort to bring him back failed and i was desperate to bring him back home I thought I'm not going to see him again not until I met a lady called Miller on Facebook who told me about a spell caster called Dr.jude, She gave me his email address and mobile number and I contacted him and he assured me that within 48hours my husband will come back to me, i feel happy already when i had that from him, In less than 48hours my husband came back started begging for forgiveness saying it is the devils work, so I'm still surprise till now about this miracle, because it just too real to be real I know so many lady are at there with the same problem of my but i tell you today that there is a solution for it.for anyone who need his help here it is Email adress; ([****] )or Whatsapp him on [****] or his website; Virgolovespell.weebly.com
i love these candles! you get a nice, soft scent, then the wonderful warm soy that softens your skin so nicely!! the warm soy feels especially good on my hands, as they are always dry, and the warmth feels good on the arthritis.